Kannada dictionary

Kannada language
The Kannada is a Dravidian language, like the Tamil and the Telugu languages. Its' spoken in the state of Karnataka, in South-West India.
This language was also named Canarese; and the name of the state Carnataca, Carnatic.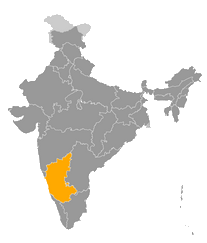 Texts & Literature
Article premier de la Déclaration universelle des droits de l'homme
ಎಲ್ಲಾ ಮಾನವರೂ ಸ್ವತಂತ್ರರಾಗಿಯೇ ಜನಿಸಿದ್ಧಾರೆ. ಹಾಗೂ ಘನತೆ ಮತ್ತು ಹಕ್ಕುಗಳಲ್ಲಿ ಸಮಾನರಾಗಿದ್ದಾರೆ.
ವಿವೇಕ ಮತ್ತು ಅಂತಃಕರಣ ಗಳನ್ನು ಪದೆದವರಾದ್ದ ರಿಂದ ಅವರು ಪರಸ್ಪರ ಸಹೋದರ ಭಾವದಿಂದ ವರ್ತಿಸಚೀಕು.