Sorbian dictionary
• Serbski Institut: online dictionaries & text corpus
• Obersorbisches phraseologisches Wörterbuch, Hornjoserbski frazeologiski słownik : phraseological dictionary, by Anatolij Ivčenko & Sonja Wölke (1984)
• Dolonoserbski: Lower Sorbian dictionaries
• Deutsch-Niedersorbisches Wörterbuch: German > Lower Sorbian & Lower Sorbian > German dictionary by Manfred Starosta, Erwin Hannusch, Hauke Bartels
• Dolnoserbske rěcne wobroty a pśisłowa: Lower Sorbian dictionary of proverbs
• Serdis: Upper Sorbian dictionaries
Serbsko-nĕmski słownik hornjołužiskeje rĕče : Upper Sorbian-German dictionary, by Jurij Kral (1927)
Serbske rostlinske mjena : Upper Sorbian-German dictionary, by Jan Radyserb-Wjela (1908)
Łužiski serbski Słownik : Upper Sorbian-German dictionary, by Křesćan Bohuwĕr Pful [Christian Traugott Pfuhl] (1866)
Hornjoserbsko-čĕski słownik : Upper Sorbian-Czech dictionary, by František Martínek (2005)
Hornjoserbsko-ruski słownik : Upper Sorbian-Russian dictionary (1974)
• Němsko-serbski a prawopisny słownik: German > Upper Sorbian & Upper Sorbian > German dictionary
• Soblex: morphological analysis of a word
• Prawopis: spelling dictionary
• Serbski kulturny turism: Upper & Low Sorbian-German usual phrases
• dictionary of place names Upper Sorbian-German (Upper Lusatia)
• dictionary of place names Lower Sorbian-German (Lower Lusatia)
• Deutsch-wendisches encyklopädisches Wörterbuch der oberlausitzer Sprache, němsko-serbski wšowědny słownik: dictionary German-Sorbian of Upper Lusatia, by Filip Rězak (1920)
• Serbsko-němski a němsko-serbski Přiručny Słownik: Sorbian-German & German-Sorbian dictionary, by Arnošt Muka (1920)
• Lausitzisch wendisches Wörterbuch, Łužiski serbski słownik: Sorbian-German dictionary by Christian Traugott Pfuhl (1866)
• Deutsch-wendisches Wörterbuch, Njemsko-serski słownik: Sorbian-German dictionary by Johann Ernst Schmaler (1843)
• Wendisch-deutsches Handwörterbuch nach dem oberlausitzer Dialekte: Upper Sorbian dictionary by Curt Bose (1840)
• Niederlausitz-wendisch-deutsches Handwörterbuch: Lower Sorbian dictionary by Johann Georg Zwahr (1847)
Sorbian language
→ Sorbian keyboard to type a text with the special characters of the Sorbian alphabet
• Obersorbisch: Upper Sorbian, by Tadeusz Lewaszkiewicz, in Wieser Enzyklopädie des europäischen Ostens (2002)
• Niedersorbisch: Lower Sorbian, by Gunter Spieß
• About Sorbian language by Helmut Faska
• Polish, Kashubian and Sorbian by Sven Gustavsson
• Wikipedia: Sorbische Sprache, linguistic map of Sorbian dialects
• Language diversity: linguistic maps, Sorbian from 1000 to the present
• Grundriss des obersorbischen Ausdruckssystems: Upper Sorbian expression system, at phonological level, by Bohumil Vykypěl (2004)
• Grundriss des Ausdruckssystems des geschriebenen Obersorbischen (2006)
• Studien zum obersorbischen Konsonantismus: the consonant system of the Upper Sorbian, by Lechosław Jocz (2015)
• Grammatik der wendischen Sprache in der Oberlausitz: grammar of Upper Sorbian language , by Georg Kral (1919)
• Kleine Grammatik der serbisch-wendischen Sprache in der Oberlausitz: Upper Sorbian grammar, by Johann Ernst Schmaler (1861)
• Grammatik der wendischen Sprache: grammar of the Upper Sorbian language, by Franz Schneider (1853)
• Syntax der wendischen Sprache in der Oberlausitz: syntax of the Upper Sorbian language, by Georg Liebsch (1884)
• Laut- und Formenlehre der oberlausitzisch-wendischen Sprache: phonetics and morphology of the Upper Sorbian language, by Christian Traugott Pfuhl (1867)
• Kurzgefaßte Grammatik der sorben-wendischen Sprache nach dem budissiner Dialekte: grammar of the Sorbian language, dialect of Bautzen, by Handrij Zejler (1830)
• books & papers about the Sorbian language: Academia | Wikipedia
The Sorbian languages
The Sorbian is a Slavic language spoken in East Germany, in Lusatia:
- Upper Sorbian (
hornjoserbšćina
) is spoken in Upper Lusatia, in the state of Saxony. (2/3 of the Sorbian speakers)
- Lower Sorbian (
dolnoserbski
) is spoken in Lower Lusatia, in the state of Brandenburg.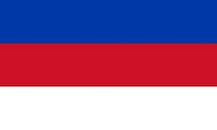 Sorbian flag
Audio & Video
• MDR: program in Sorbian
• Sorbian traditions (narratives and customs, songs, poetry, tales): records collected by Hubert Pernod, Institut de phonétique, Musée de la parole et du geste (1929)

Texts & Literature
• Serbska čitanka: anthology of Sorbian literature, by Josef Páta (1920)
• Zběrka dolnoserbskich pěsnjow: Sorbian folksongs, by Mato Kósyk (1893)
• Evangeliom swětego Matthejusa: Gospel of Matthew in Lower Sorbian (1868)
• Nowy Testament: New Testament translated in Upper Sorbian, by Michał Frenzel (1835)
• Das Neue Testament Unsers Herrn Jesu Christi in die Nieder-Lausitzsche Wendische Sprache: the New Testament translated in Lower Sorbian, by Johann Gottlieb Fabricius (1709)
First article of the Universal Declaration of Human Rights
Upper Sorbian:
Wšitcy čłowjekojo su wot naroda swobodni a su jenacy po dostojnosći a prawach.
Woni su z rozumom a swědomjom wobdarjeni a maja mjezsobu w duchu bratrowstwa wobchadźeć.
Lower Sorbian:
Wšykne luźe su lichotne roźone a jadnake po dostojnosći a pšawach.
Woni maju rozym a wědobnosć a maju ze sobu w duchu bratšojstwa wobchadaś.
→ First article in different languages
→ Universal Declaration of Human Rights in Sorbian & other languages
Sorbians
• Wikipedia, Sorben: the Sorbians

| | | | |
| --- | --- | --- | --- |
| English | German | Upper Sorbian | Lower Sorbian |
| Lusatia | Lausitz | Łužica | Łužyca |
| | Bautzen | Budyšin | |
→ Germany: maps & documents