Panjabi dictionary
Type a word & select a dictionary:
• Punjabi-English dictionary, Punjabi University (Patiala, India) (Gurmukhi & Shahmukhi scripts) (+ audio)
• The Panjabi dictionary by Maya Singh (1895)
• Dictionary of the Jatki or Western Panjābi Language, by A. Jukes (1900)
• Grammar and dictionary of Western Panjabi, as spoken in the Shahpur district with proverbs, sayings and verses (1899)
• A dictionary of the Panjābī language, Lodiana Mission, Presbyterian Church (1854)
• A dictionary, English and Punjabee outlines of grammar, also dialogues, by Samuel Starkey (1849)
• Idiomatic sentences in English and Panjabi, Lodiana Mission, Presbyterian Church (1846)
• Panjabi made easy by J. S. Nagra (1988): I & II - III
Panjabi language
→ Gurmukhi Panjabi keyboard: to type a script with a script closed to the Devanagari
→ Shahmukhi Panjabi keyboard: to type a text with the Arabic script
• Let us learn Gurmukhi by Shamsher Singh Puri (2004)
• Introduction to Panjabi vowel system by Kanwal Dhaliwal (2019)
• Les mouvements pour le panjabi à Lahore entre 1947 et 1960 (Pakistan) by Julien-Régis Columeau, thèse (2019)
• Let's learn Penjabi: course for beginners, alphabets
• A start in Punjabi: course (+ audio)
• A start in Punjabi by Henry Gleason & Harjeet Singh Gill, revised Mukhtiar Singh Gill (2013)
• A reference grammar of Punjabi (2013)
• Teach yourself Panjabi by Hardev Bahri (2011)
• A Phonology of Punjābī as spoken in Ludhiana and a Ludhiānī phonetic reader, by Banarsi Das Jain (1934)
• Panjabi manual and grammar: a guide to the colloquial Panjabi, by Grahame Bailey (1912)
• A Panjabi phonetic reader (1914)
• A guide to Panjabi by Jawahir Singh (1902)
• Grammar of Panjabee language by R. Leech (1838)
• Specimens of Pañjābī by George Abraham Grierson, in Linguistic survey of India (1919)
The Panjabi is spoken:
- in Pakistan by 100 millions speakers. They use the Arabic script. There is no official status: the language of Pakistan is
Urdu
.
- in India by 40 millions speakers. It's the officila language of the state of Panjab. They use the Gurmukhi script. CIt's also the language of the Sikhs.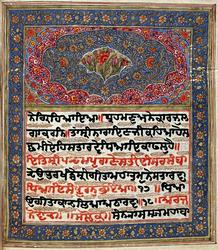 manuscript in Panjabi
Texts & Literature
• studies about the Panjabi literature and Sikhism, by Denis Matringe
• The Panjab and its popular culture in the modern Panjabi poetry of the 1920s and the early 1930s, in South Asia Research (1995)
• L'apparition de la nouvelle et du roman en panjabi (1930-1947), in Journal asiatique (1985)
• Histoire du sikhisme et littérature panjabie : Rana Surat Singh de Bhai Vir Singh, by Denis Matringe, in Revue de l'histoire des religions (1996)
• Entre charia et coutume : le qāżī en action dans une romance indienne du XVIIIe siècle, in Archives de sciences sociales des religions (2011)
• Genesis, with the first twenty chapters of Exodus, by Levi Janvier (1849)
• IndianManuscripts: Punjabi manuscripts written in the Gurmukhi script
First article of the Universal Declaration of Human Rights
ਸਾਰਾ ਮਨੁੱਖੀ ਪਰਿਵਾਰ ਆਪਣੀ ਮਹਿਮਾ, ਸ਼ਾਨ ਅਤੇ ਹੱਕਾਂ ਦੇ ਪੱਖੋਂ ਜਨਮ ਤੋਂ ਹੀ ਆਜ਼ਾਦ ਹੈ ਅਤੇ ਸੁਤੇ ਸਿੱਧ ਸਾਰੇ ਲੋਕ ਬਰਾਬਰ ਹਨ ।
ਉਨ੍ਹਾਂ ਸਭਨਾ ਨੂੰ ਤਰਕ ਅਤੇ ਜ਼ਮੀਰ ਦੀ ਸੌਗਾਤ ਮਿਲੀ ਹੋਈ ਹੈ ਅਤੇ ਉਨ੍ਹਾਂ ਨੂੰ ਭਰਾਤਰੀਭਾਵ ਦੀ ਭਾਵਨਾ ਰਖਦਿਆਂ ਆਪਸ ਵਿਚ ਵਿਚਰਣਾ ਚਾਹੀਦਾ ਹੈ ।
• Universal Declaration of Human Rights: translation into Panjabi (+ audio)
→ India
→ Pakistan