Kannada dictionary
Kannada language
The Kannada is a Dravidian language, like the Tamil and the Telugu languages. Its' spoken in the state of Karnataka, in South-West India.
This language was also named Canarese; and the name of the state Carnataca, Carnatic.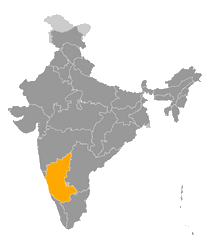 Texts & Literature
First article of the Universal Declaration of Human Rights
ಎಲ್ಲಾ ಮಾನವರೂ ಸ್ವತಂತ್ರರಾಗಿಯೇ ಜನಿಸಿದ್ಧಾರೆ. ಹಾಗೂ ಘನತೆ ಮತ್ತು ಹಕ್ಕುಗಳಲ್ಲಿ ಸಮಾನರಾಗಿದ್ದಾರೆ.
ವಿವೇಕ ಮತ್ತು ಅಂತಃಕರಣ ಗಳನ್ನು ಪದೆದವರಾದ್ದ ರಿಂದ ಅವರು ಪರಸ್ಪರ ಸಹೋದರ ಭಾವದಿಂದ ವರ್ತಿಸಚೀಕು.