Inuktitut dictionary
• Tusaalanga: Inuktitut-French glossary (+ audio)
• Les Mondes polaires: Inuktitut-French dictionary
Inuktitut language
→ Inuktitut keyboard to type a text with the Qaniujaaqpait script
→ Inuktitut conversion Qaniujaaqpait-Latin
→ Nunavik keyboard with the syllables ai
→ Nunavik conversion Qaniujaaqpait-Latin
• Tusaalanga: Inuktitut course
• grammar
• Inuit kupaimmiut uqausingit: the language of the northern Quebec Inuit, a teaching and learning guide, par Louis-Jacques Dorais (1977)

• books & studies about the Inuktitut language: Google livres | Internet archive | Academia | Wikipédia
The Inuktitut is an official language of Nunavut (ᓄᓇᕗᑦ), territory of North Canada.
The Nunavik (ᓄᓇᕕᒃ) is a part of North Québec.
The syllabary used in Inuktitut is an adaptation of the Ojibwe and Cree scripts developed in the mid-19th century by the Canadian Methodist missionary James Evans.
Texts & Literature
• Émergence des littératures inuite et innue by Daniel Chartier, lecture, Institut nordique du Québec (2020) (video)
• La fascinante émergence des littératures inuite et innue au XXIe siècle au Québec: une réinterprétation méthodologique du fait littéraire, in Revue japonaise d'études québécoises (2019)
• ᖃᓄᖅ ᑐᑭᖃᕐᐸ "ᑕᑯᖅᑰᑕᕈᑕᐅᓂᖓ ᑕᕐᕋᐅᑉ"? What is the Imagined North? ethical principles, multilingual essay (translation into English, French) by Daniel Chartier (2019)
First article of the Universal Declaration of Human Rights
ᐃᓅᔪᓕᒫᑦ ᐊᓂᖅᑎᕆᔪᓕᒫᑦ ᐃᓅᓚᐅᕐᒪᑕ ᐃᓱᒪᕐᓱᕐᖢᑎᒃ ᐊᒻᒪᓗ ᐊᔾᔨᐅᖃᑎᒌᒃᖢᑎᒃ ᓂᕐᓱᐊᖑᓂᒃᑯᑦ ᐊᒻᒪᓗ ᐱᔪᓐᓇᐃᑎᑎᒍᑦ.
ᐃᓱᖃᖅᑐᖁᑎᖃᕐᑎᑕᐅᕙᓕᕐᐳᑦ ᐱᔾᔪᑎᖃᕐᓂᒃᑯᑦ ᖃᑕᙳᑎᒌᑦᑎᐊᕆᐊᖃᕐᓂᒃᑯᓪᓗ.
inuujulimaat aniqtirijulimaat inuulaurmata isumarsurłutik ammalu ajjiuqatigiikłutik nirsuaŋunikkut ammalu pijunnaititigut.
isuqaqtuqutiqartitauvalirput pijjutiqarnikkut qataŋŋutigiittiariaqarnikkullu.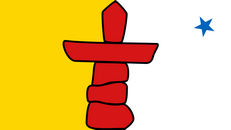 Nunavut
• Destination Nunavut: tourism
• Travel Nunavut: tourism
→ French of North America: Québécois & Acadian